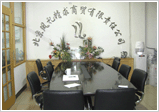 Beijing Fengli Jingqiu Pharmaceutical Co., Ltd.
Established at the end of 1996. She is a professional trade company operating Pharmaceutical Actives and Excipients, Chemical Reagent, Food Actives and expendable in lab. All the products sell to over 30 province and municipality in China. Beijing Fengli is famous in the pharmaceutical & daily supplement industries. She is located off the South Fourth Ring Road in the south suburb of Beijing, closes to Beijing Economic and Technical Development Zone and Jingjintang Expressway in the east, Jingkai Expressway in the west, which has convenient transportation. And Nanhaizi Wich Garden reconstructed is in the south.

Beijing Fengli specializes in high pharmaceutical, daily supplement industries and other R&D unit. Not only selling products but also favoring the technical service. We import materials such as, BASF, Roquette, Sasol, Grace, Randi Group, AsahiKASEI, Croda, Kerry & Foremost, Prayon, Peter-Greven, Luzenac and so on. The quality and service are reliable by the consumer.

Our faith is to offer high quality products and make contributions for people´s health!

Our purpose is to establish and perfect forward and after service, to raise the managing level of quality control,to foster specialty and cooperant team. To provide compositive solution for the customer.

Our promise is to build a long haul partnership from mutual benefit and reciprocity. Beijing Fengli will take you into the wide space of excipients keep your preparation more excellent!
Headquarters in Beijing
Add: No.39-7-8, Wudian Road, Jiugong Town, Daxing District, Beijing, China ( 100076 )
Tel:+86-10-87969881/87969882/87969883
Fax:+86-10-87969886/87969887
E-mail: sales@fenglichem.com
Web:www.chavalada.com
Sichuan office Xinjiang office Guangdong office Northeast office